When young Christian Spanne decided to be a professional handball player? Do you have any family tradition concerning this sport?
I decided to go for professional handball player when I was 15 and was summoned to my first youth national squad. I come from a very sport interested family, where both parents played football, and my mother handball as well.
If not handball, then…?
If not handball I would probably have tried to make it in football, but due to some injuries and bigger talent I chose handball.
Before coming to Wisła Płock, you have only played in your home country. Why did you decided to leave Norway and move to Poland?
I decided to leave Norway because I always wanted to play in a higher level, and I had won everything that was to be won in Norway.
What are your memories about Wisła Płock? If you will have offer from Wisła Płock once again would you decide to return?
My best memories from Plock would be the amazing fans and the atmosphere in Orlen Arena. It's also hard to not mention the Champions Legue games and the qualification to the TOP 16. Regarding coming back, I think it's too late. I have settled down with work and family in Norway.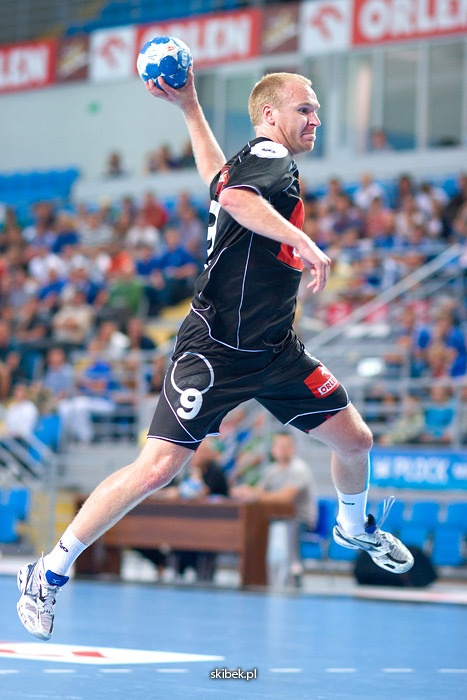 Did you have any occasion to visit Płock after you left Wisła?
I went the year after my contract was over to visit friends and watch the final games agains Vive Kielce.
Did you have time to observe Wisła Płock in EHF Champions Legue in last season? How do you evaluate the team?
I have followed Wisła Płock every year until last year, when I was too busy changing diapers. I think at least now they have a good coach, and with Adam as head of the organization they can go far. Also their wingers are pretty good, so I hope they will compete closely with Kielce.
Concerning your profession career, who was the best player and the best coach with whom you had occasion to collaborate? And can you tell us why those choices are the best?
The best coach for me has been Ole Gustav Gjekstad, with whom I worked in Drammen in my early period. He taught me a lot handball, but also how to be good person and top athlete.
The best players for me is Glenn Solberg, because he is one of the greatest Norwegian players, with an amazing career.
In Płock, I must say that it was Nikola Eklemović. He is one of the smartest handball players I have ever meet.
How do you rate the Norway national team? After World Championships in France at the beginning of 2017, they have got silver medal. How do you think – can Norwegian playes repeat success and appear in final of European Championships in 2018? What is the biggest attitude of Norway national team to achieve this goal?
The Norwegian team is finally starting to get things going. They have a good mixture of old and young, and an amazing coach. They have a team spirit. They want each other to be successful, and I think that is the most important thing for a young team. I think and hope they can achieve top 4 in 2018.
Can we ask, what do you currently doing in your life?
Today I play in Drammen HK, where we are in rebuilding phase after many years of bad results. We have a strong team and hope to place in top 3 in domestic league. I am also working with recruitment/headhunting for companies, which I really enjoy.
What Christian Spanne can wish to Płock handball fans?
To the fans of Wisła, I will never forget the atmosphere you make in the Arena. For me, it's the best fans that I have played for, and I made many good friends amongst you. Keep up the good work, you are an extra player on the field.
Opracowała Bogdi